Symphony is a technology house headquartered in San Francisco with hubs in Sarajevo, Belgrade, Novi Sad, Nis, Skopje, Amsterdam, and Berlin. Our clients include two of the "Big Four" tech companies, innovative startups from the Bay Area, and leading enterprises from diverse industries. We are working with alumni from Apple, Facebook, Amazon, Google, Netflix, and other bright minds.
Symphony is a partner and preferred vendor of Google Ventures, StartX, and Y Combinator. We like to tackle challenging projects in fields such as biotech, machine learning, IoT, wearables, and augmented reality.
Job Description:
Assisting and self-executing installation and copodrškaračunarstvojjjjjjhgfnfiguration of computer hardware, operating systems and applications
Monitoring and maintaining computer systems, networks and relevant hardware for the whole company.
Troubleshoot system and network problems, diagnosing and solving hardware or software and application issues for our employees.
Assists and supports the roll-out and installation of new applications, new hardware and networks which our employees are using in everyday work.
Set up of new users' accounts and profiles and deals with password issues and other topics related to technical onboarding of new employees, but also executed activities related to technical offboarding of employees leaving.
Manages the purchase and cancelation of licenses and subscriptions which are being used by the companies employees
Key skills and position requirements:
Strong skills and passion for working with IT tools
Minimum 3 years of working experience in tech support, desktop support, or a similar role
Proficiency in macOS & Windows
Experience with remote desktop applications and help desk software
Very strong organizational and communication skills
Excellent knowledge of the English language
Experience in the development and implementation of Atlassian software solutions
Project management and cross-site work experience is a big plus
Symphony takes great pride in our company culture and team spirit. Our workplace perks and benefits are designed to help employees grow both personally and professionally. Become part of our collaborative environment offering support, mentoring, and guidance throughout your career.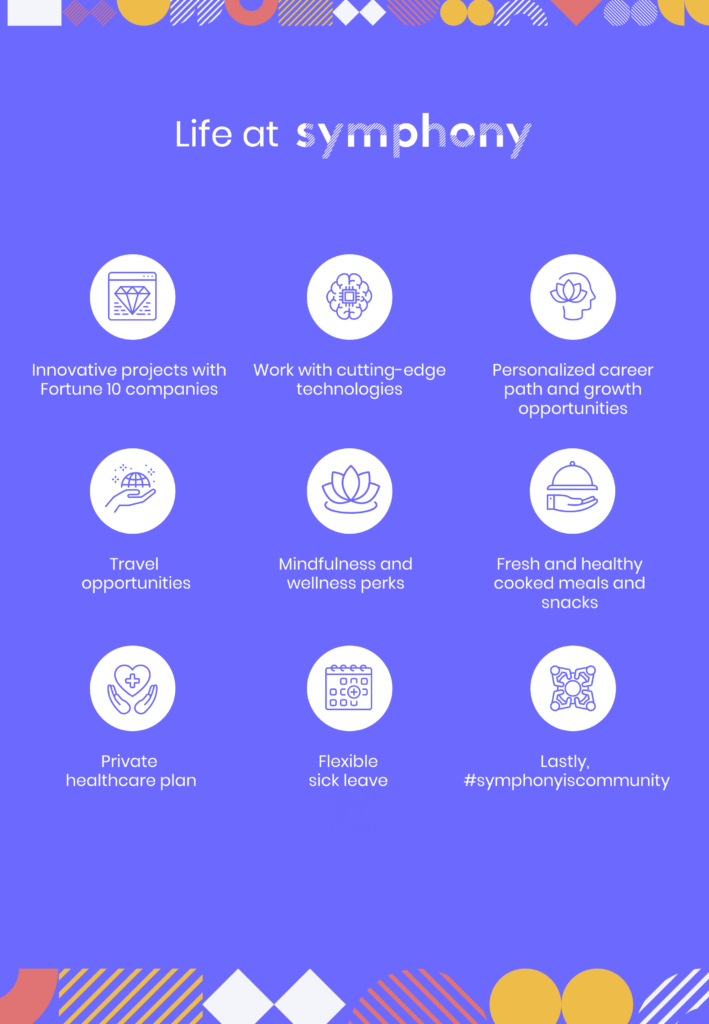 Are you up for the challenge? Let's give it a try!
When choosing new team members, we love to be mutually impressed. If we have impressed you, we challenge you to impress us and we will get back to you soon.