Symphony is a technology house headquartered in San Francisco with engineering hubs in Belgrade, Niš, Novi Sad, Sarajevo, Skopje, and consulting offices in Amsterdam, Berlin, Chicago, Copenhagen, Denver, and London. We're working with 4 out of Fortune's 10 most admired brands of 2020 as well as some of the most ambitious and creative founders in the world. We have collaborated with clients who were educated at MIT, Stanford, and Harvard & trained at Facebook and Amazon.
Symphony is a partner and preferred vendor of Google Ventures, StartX, and Y Combinator. We like to tackle challenging projects in fields such as biotech, machine learning, IoT, wearables, and augmented reality.
You will have a chance to work with one of the best people on some of the most challenging projects.
Job Description:
Leading Talent acquisition team
Creating or significantly influencing hub recruitment strategy and ensuring its implementation
Managing and defining the steps in the end to end recruitment process for all open positions
Accountable to ensure highly positive candidate experience, timely and adequate communication and feedback, hospitality and high professionalism
Providing accurate and efficient reporting as agreed on a hub level
Preventing process obstacles and omissions timely and efficiently, continuously improving recruitment process efficiency and flow
Creating employer branding plan and strategy for the local market
Participating in relevant external and internal events in order to widen talent pool network
Requirements
5+ years of relevant working experience, preferably in IT industry
Demonstrated knowledge of the latest recruitment trends, best practices, tools and methodologies
Proficient with different recruiting and statistic tools
Demonstrated experience with employer branding best practices
Experience in people management is nice to have
Proven track record of sound decision-making and problem-solving, ability to make decisions quickly and independently
Full professional proficiency in the English language
Your profile:
Self-starter, proactive and flexible mindset
Ability to influence different stakeholders in order to create a joint effort in recruiting
Extraordinary communicator, verbal and written
Friendly and approachable person, able to easily establish contacts and connections, networker
Problem-solving mindset
Highly efficient, quick and agile person
Data-driven person, able to easily handle different sources and types of information and extract meaningful data
A highly organized and efficient person
Symphony takes great pride in our company culture and team spirit. Our workplace perks and benefits are designed to help employees grow both personally and professionally. Become part of our collaborative environment offering support, mentoring, and guidance throughout your career.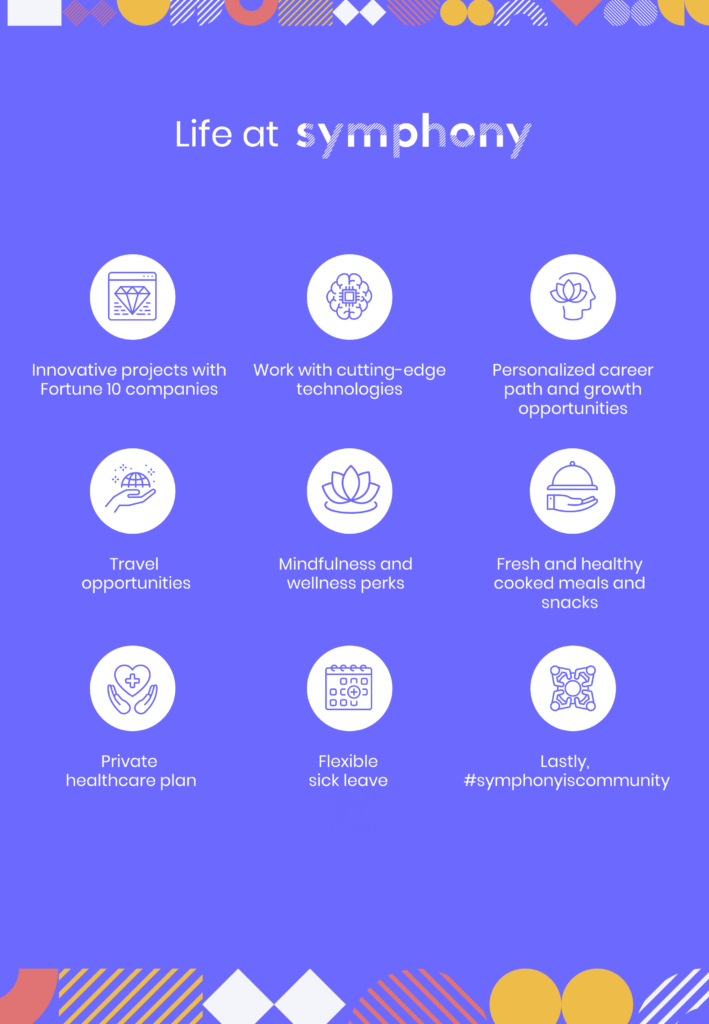 Are you up for the challenge? Let's give it a try!
When choosing new team members, we love to be mutually impressed. If we have impressed you, we challenge you to impress us and we will get back to you soon.