Symphony Digital Novi Sad is a technology house headquartered in San Francisco with engineering hubs in Novi Sad, Belgrade, Niš, Sarajevo, Skopje, and consulting offices in Amsterdam, Berlin, Chicago, Copenhagen, Denver, and London. We're working with 4 out of Fortune's 10 most admired brands of 2020 as well as some of the most ambitious and creative founders in the world. We have collaborated with clients who were educated at MIT, Stanford, and Harvard & trained at Facebook and Amazon.
Symphony Digital Novi Sad is a partner and preferred vendor of Google Ventures, StartX, and Y Combinator. We like to tackle challenging projects in fields such as biotech, machine learning, IoT, wearables, and augmented reality.
You will have a chance to work with one of the best people on some of the most challenging projects.
Job Description:
Lead the business-wide technical discussions. Be accountable for aligning the business's strategic vision with its software technology
Define, design, and implement complex, distributed software systems throughout all phases of the software development life cycle
Work on new and existing product initiatives and take a lead role in the definition of various product direction
Drive system improvements and best practices architecturally through both refactoring legacy systems, as well as creating new solutions
Work across various teams within the organization to evangelize best practices and clean architecture
Provide leadership, inspiration, and guidance to a growing team; foster a culture of transparency and collaboration
Requirements:
Ability to scope and estimate project requirements
Ability to present technical concepts to non-technical audiences
Ability to write clean and maintainable code and to improve existing solutions
Strong analytical capabilities for identifying and resolving engineering tradeoffs
Design and architectural patterns, principles of software engineering
Good understanding of server and network infrastructure, experience with cloud platform(s)
Experience designing and developing distributed software applications, tools, systems, and services
Experience with balancing and optimizing large-scale production systems is a plus
Relational and non-relational database
Excellent time management, communication, decision-making, presentation, and organization skills
Strong influencing and leadership skillsBachelor's degree in Computer Science is a big plus
6+ years of software development experience (multiple programming languages is a great advantage)
Symphony Digital Novi Sad's hiring process is an important part of our culture. However, we know how hiring and recruitment processes might be overwhelming. Having that in mind, we've simplified and broken down the process visually.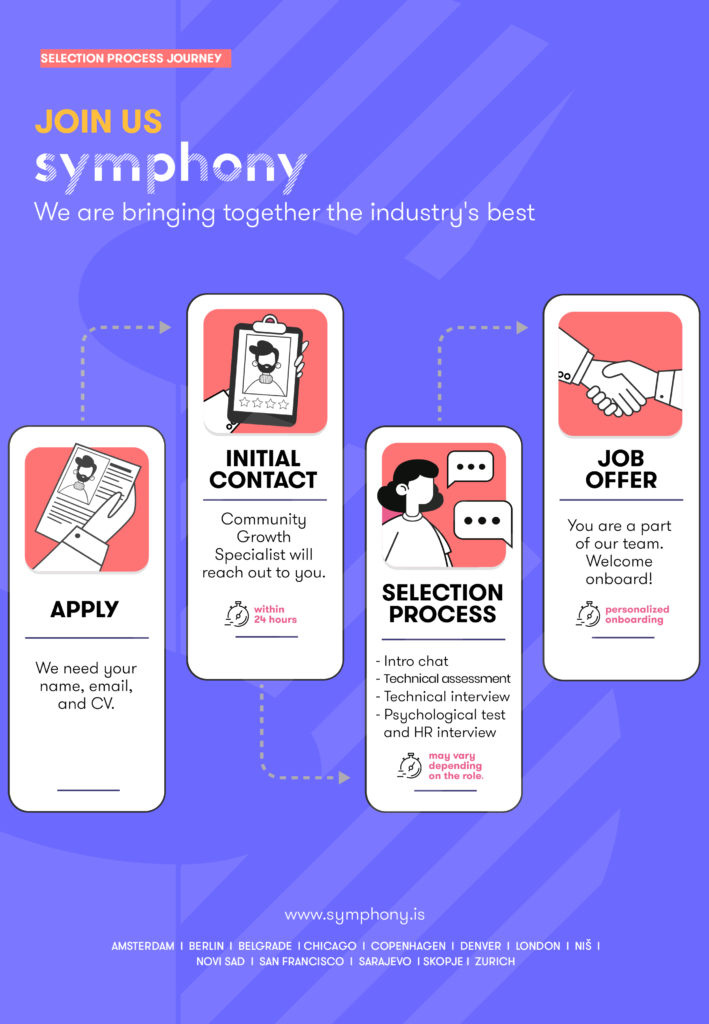 Symphony Digital Novi Sad takes great pride in our company culture and team spirit. Our workplace perks and benefits are designed to help employees grow both personally and professionally. Become part of our collaborative environment offering support, mentoring, and guidance throughout your career.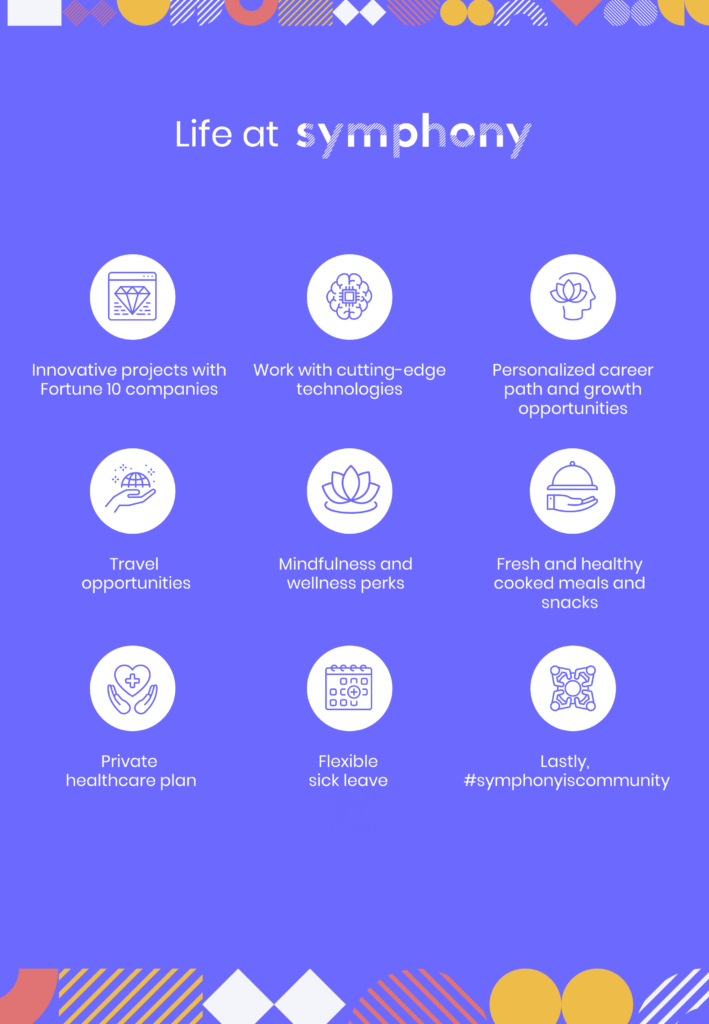 Are you up for the challenge? Let's give it a try!
When choosing new team members, we love to be mutually impressed. If we have impressed you, we challenge you to impress us and we will get back to you soon.