Symphony Digital Novi Sad is a technology house headquartered in San Francisco with engineering hubs in Novi Sad, Belgrade, Niš, Sarajevo, Skopje, and consulting offices in Amsterdam, Berlin, Chicago, Copenhagen, Denver, and London. We're working with 4 out of Fortune's 10 most admired brands of 2020 as well as some of the most ambitious and creative founders in the world. We have collaborated with clients who were educated at MIT, Stanford, and Harvard & trained at Facebook and Amazon.
Symphony Digital Novi Sad is a partner and preferred vendor of Google Ventures, StartX, and Y Combinator. We like to tackle challenging projects in fields such as biotech, machine learning, IoT, wearables, and augmented reality.
You will have a chance to work with one of the best people on some of the most challenging projects.
Job Description:
Hands-on experience with one of the following technologies/frameworks is a great advantage: Java, .NET, JavaScript (any framework), or mobile development (iOS or Android)
An algorithmic approach to problem-solving
Good knowledge of Object-Oriented concepts
Highly developed ability to analyze and understand business context and logic behind the software solution
Passion about cracking the toughest challenges in tech
Ability to write clean, innovative, and cool code and suggest excellent solutions
Knowledge of design patterns and their implementation in real-life coding problems and ambition to provide the best, but really the best practice solutions
Good understanding of the business context and logic behind the software solution
Advanced level of English language
Requirements:
Bachelor's degree in Computer Science is a big plus
3-4 years of hands-on software engineering experience in a technically challenging environment
Symphony Digital Novi Sad's hiring process is an important part of our culture. However, we know how hiring and recruitment processes might be overwhelming. Having that in mind, we've simplified and broken down the process visually.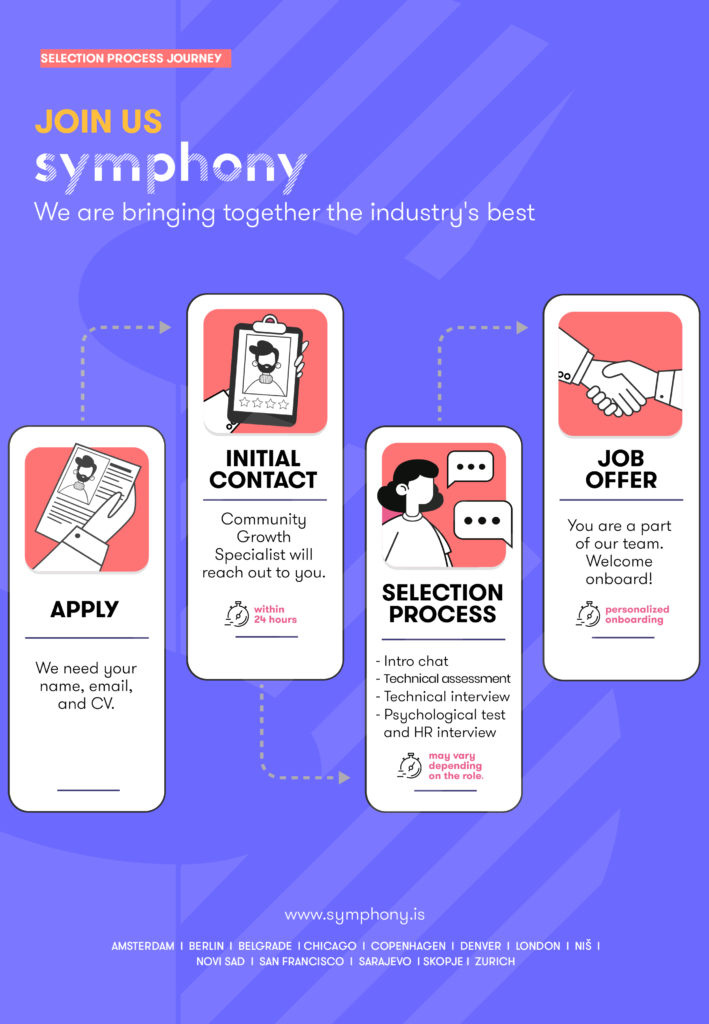 Symphony Digital Novi Sad takes great pride in our company culture and team spirit. Our workplace perks and benefits are designed to help employees grow both personally and professionally. Become part of our collaborative environment offering support, mentoring, and guidance throughout your career.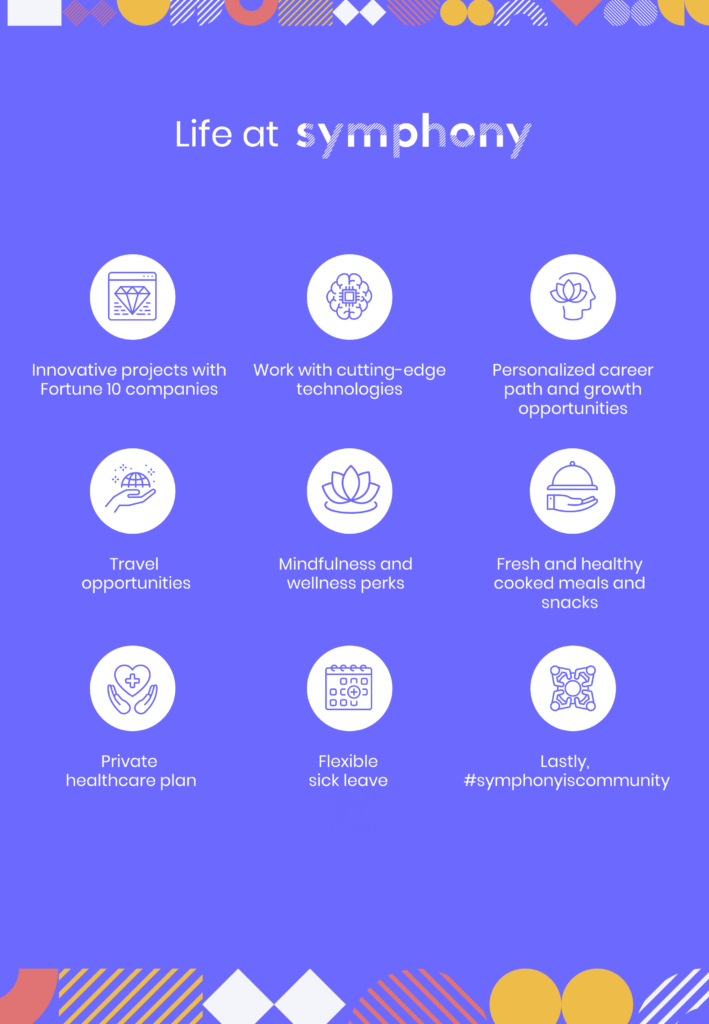 Are you up for the challenge? Let's give it a try!
When choosing new team members, we love to be mutually impressed. If we have impressed you, we challenge you to impress us and we will get back to you soon.