Symphony Digital Niš is a technology house headquartered in San Francisco with engineering hubs in Novi Sad, Belgrade, Niš, Sarajevo, Skopje, and consulting offices in Amsterdam, Berlin, Chicago, Copenhagen, Denver, and London. We're working with 4 out of Fortune's 10 most admired brands of 2020 as well as some of the most ambitious and creative founders in the world. We have collaborated with clients who were educated at MIT, Stanford, and Harvard & trained at Facebook and Amazon.
Symphony Digital Niš is a partner and preferred vendor of Google Ventures, StartX, and Y Combinator. We like to tackle challenging projects in fields such as biotech, machine learning, IoT, wearables, and augmented reality.
You will have a chance to work with one of the best people there are on some of the most challenging projects there are.
Job Description:
Operational
Maintain constant communication with stakeholders and leadership regarding design process, status, risks, issues, and priorities
Generate trust and nurture open collaboration by actively facilitating, contributing, and engaging with cross-functional groups using user-centred or design thinking methodologies
Setting clear expectations and guidelines for the designers supporting your efforts
Collaborate with team members to identify, prioritize and implement design solutions in a fast-paced, rapidly changing environment
Will need strong consulting skills to work with stakeholders as the primary UX lead
Advocate for user-centred research and design principles.
The interest and ability to mentor others
Design
Use wireframes, flow diagrams, sketches, storyboards, mockups, and/or high-fidelity prototypes to communicate the user experience at various stages of the design process
Understanding complex technological concepts and communicating them in simplified, visual form
Designing with consistency, attention to detail, and knowledge of inclusivity and accessibility
Exhibiting familiarity with qualitative research methods and knowing how to incorporate research findings into designs
Gather insights and test concepts with users in order to inform design decisions
A commitment to excellence over perfection — you must be comfortable working nimbly with 'just enough' data to make informed decisions and operate within a fast-paced agile environment
Requirements:
8+ years of experience in product, web, mobile, interaction design
Experience gathering user research and testing concepts with users to inform design decisions
Demonstrated understanding of user-centred design
Portfolio of relevant user experience design and/or research project deliverables.
Experience conducting or applying agile user research, with a focus on lean usability testing and building data-driven designs;
Experience collaborating with engineers and operation teammates to translate the design into code and business solutions
Expert level mastery of standard interactive design tools like Sketch, Adobe Creative Suite, Invision, Principle, Figma, or similar software
Ability to identify complex business problems and co-create solutions from a business, technological, and experience point of view.
experience with software such as Hotjar, Google Analytics, or similar is a plus
Experience leading a UX team
Symphony Digital Niš's hiring process is an important part of our culture. However, we know how hiring and recruitment processes might be overwhelming. Having that in mind, we've simplified and broken down the process visually.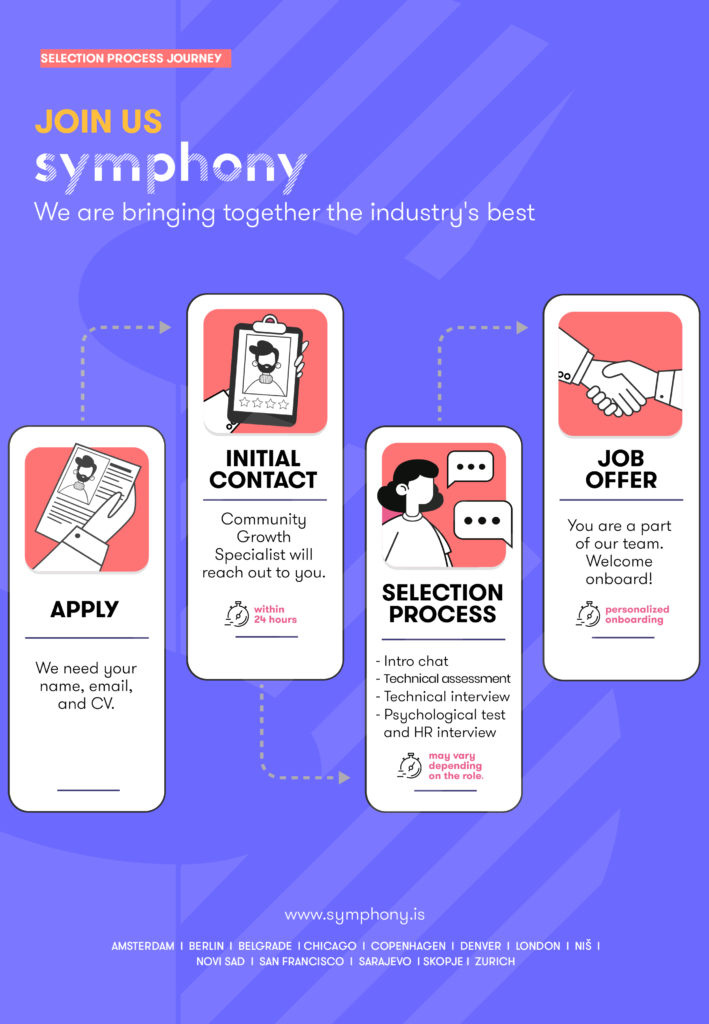 Symphony Digital Niš takes great pride in our company culture and team spirit. Our workplace perks and benefits are designed to help employees grow both personally and professionally. Become part of our collaborative environment offering support, mentoring, and guidance throughout your career.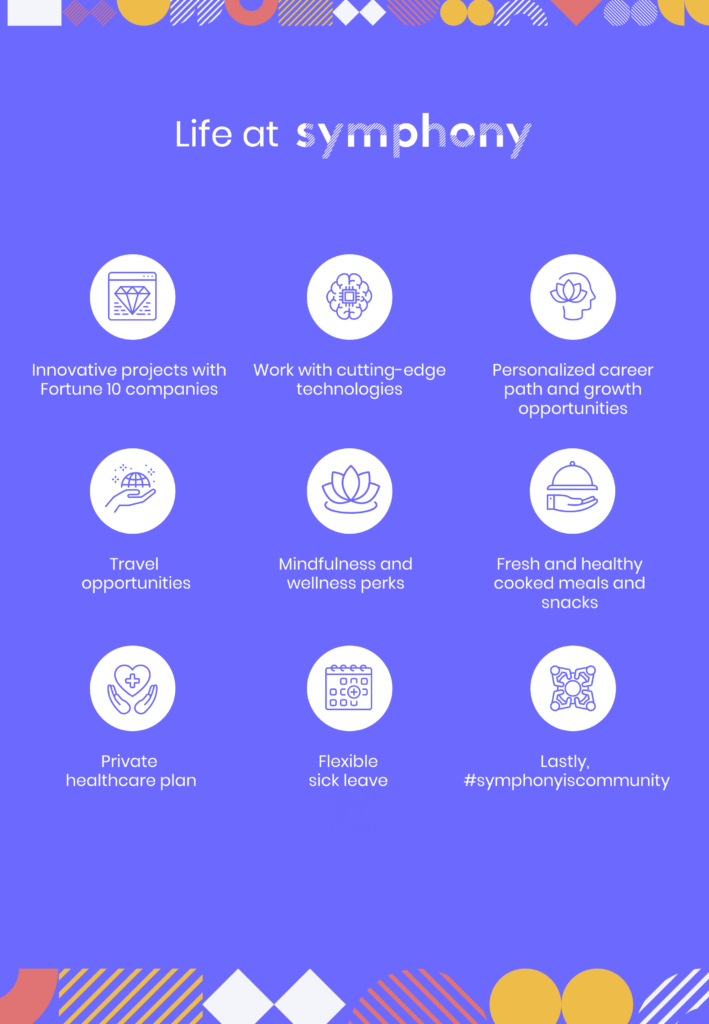 ho
Are you up for the challenge? Let's give it a try!
When choosing new team members, we love to be mutually impressed. If we have impressed you, we challenge you to impress us and we will get back to you soon.